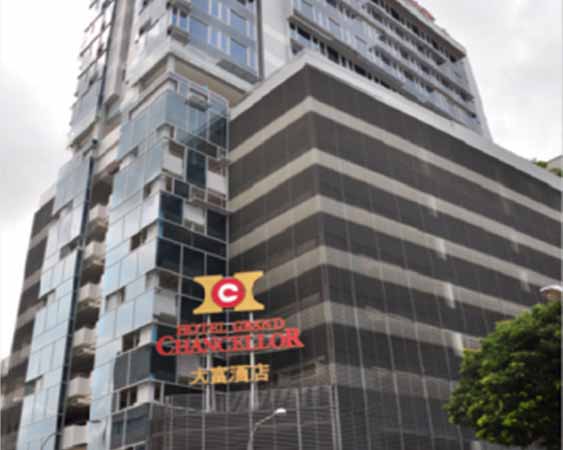 Hotel Grand Chancellor is located on Belilios Road (off Serangoon Road) next to the famous Sri Veerama Kaliamman Temple which was built in 1881. Its is also within 5 minutes walk from MRT station and famous Mustafa 24-hours shopping centre within the "Little India" enclave.
The 16 storey Hotel has a total of 328 rooms including 10 Rooftop Balcony Suites which overlook the Marina Bay Area. The Tower & Podium block is linked via a bridge on the 4th floor.
IPS Securex was awarded a turnkey project to supply, install, commission and maintain the latest generation security systems for this new hotel which opened recently.
This project is the first in Singapore to use the latest 2Y-LINK technology which transmits both power and video signal for analogue CCTV cameras over a single 2 core bell cable. This patented technology is suitable for cable runs up to 2,000 metres without any reduction in vedio quality, and in fact provides better signal quality than conventional co-axial cable. As well as reducing the installation time, there are significant savings for customers for both cabling and conduit costs.
With over 100 cameras in two blocks, this is an important milestone project for the 2Y-LINK system and in recent months IPS Securex has completed many other projects using this unique product line.
As well as providing the complete CCTV installation, IPS Securex also supplied an EPS parking system and will be supporting all the systems during the warranty period.